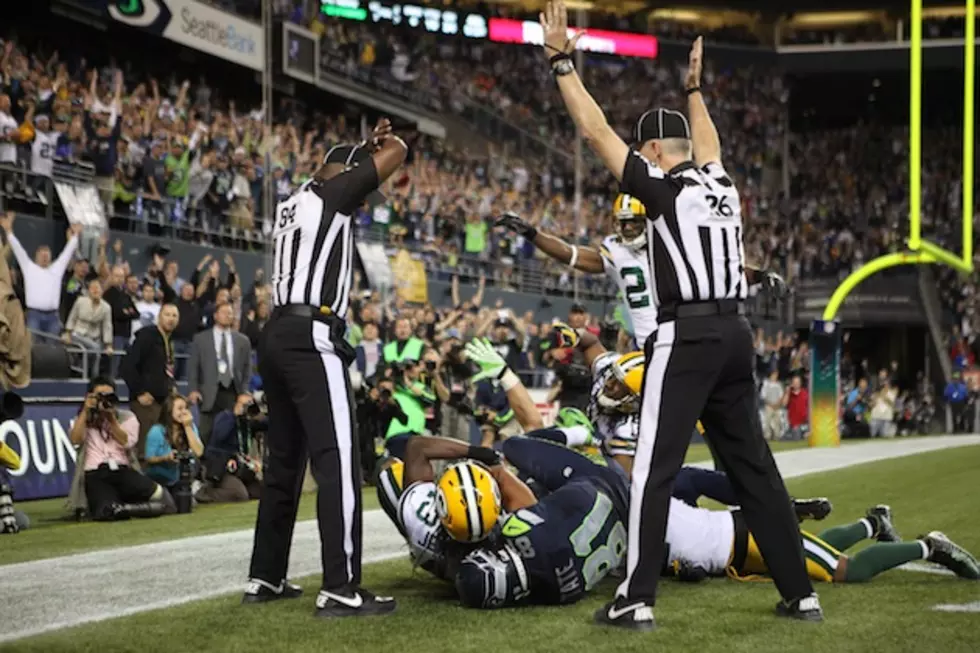 Monday Night Football: Seahawks Beat Packers, 14-12, on Controversial Touchdown Pass
Otto Greule Jr, Getty Images
Russell Wilson threw a disputed 24-yard touchdown pass to Golden Tate on the final play of the game, allowing the Seattle Seahawks to beat the Green Bay Packers, 14-12, in Seattle on Monday night. Seattle (2-1) registered the game-winning score only after a long official review declined to overturn the touchdown ruling on the field. Several camera angles seemed to suggest that the play could have been ruled an interception by Green Bay (1-2).
Cedric Benson scored on a 1-yard run with 8:44 left to give the Packers their first lead of the game, 12-7. On the ensuing drive, Seattle marched 58 yards on 12 plays, but Wilson threw incomplete on a fourth-and-3 from the Green Bay 7-yard line. After the Packers took over on downs with 1:54 to play, Benson fumbled on a first-down run. Though Green Bay center Jeff Saturday recovered the fumble at the 2-yard-line, the Packers gained little ground and had to punt the ball back to the Seahawks from their end zone, setting up Seattle's game-winning drive with under a minute to play.
Packers' quarterback Aaron Rodgers finished with 223 yards passing. The Seahawks' defense sacked him eight times, including four by Chris Clemons. Wilson completed just 10 of 21 passes for Seattle, but his touchdown strikes of 41 and 24 yards to Tate accounted for all the Seahawks' points. Seattle's Marshawn Lynch carried 25 times for 98 yards.
More From TSM Interactive