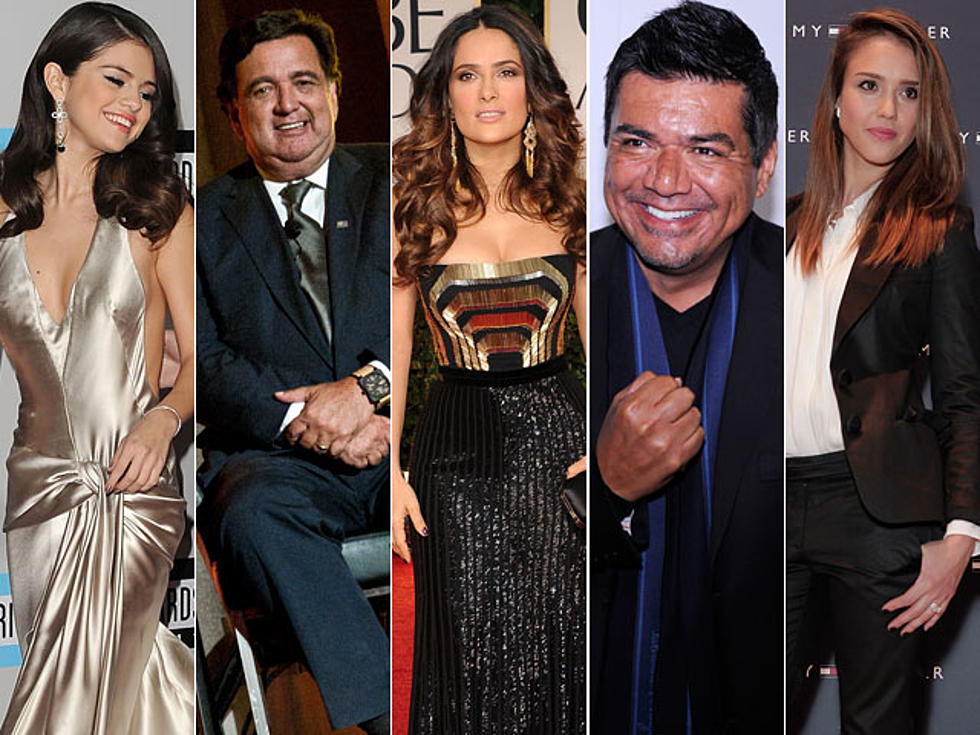 10 Famous Mexican-Americans to Help You Celebrate Cinco de Mayo
Cinco de Mayo is not widely celebrated in Mexico, but is huge in the United States, truly making it a Mexican-American holiday.
There are more than 31 million Mexican-Americans living in the United States, a substantial and strong part of the fabric of the US. Here's a quick look at 10 famous Mexican-Americans:
César Chávez
Chávez was a farm worker, labor leader, and activist. He helped found the National Farm Workers Association and used nonviolence to give national recognition to the farm workers' struggle. His motto, "Sí, se puede" ("Yes, it can be done"), inspired hope in generations of activists. César Chávez Day is an annual state holiday that promotes community service in honor of his legacy.
Salma Hayek
Hayek is an award-winning actress, director, and producer. She began her career as a telenovela soap star eventually moving into Hollywood film. Hayek produced an Academy Award nominated feature and went on to executive produce the Golden Globe winning series Ugly Betty. She is an outspoken advocate for increasing awareness about violence against women and discrimination against immigrants.
Bill Richardson
Richardson is a politician who served as the governor of New Mexico. Under the Clinton administration, he was the US Ambassador to the United Nations and the Secretary of Energy. He helped negotiate the release of American prisoners in Iraq, North Korea, and Bangladesh. These efforts got him nominated for the Nobel Peace Prize.
Jessica Alba
Alba has been a star since her 'Dark Angel' days and has appeared atop several sexiest women in the world lists over the years. Alba, whose father is a Mexican-American, has managed to balance being a sex symbol, while also handling the duties of motherhood -- she has two young daughter with her husband, Cash Warren. She also takes time to help various charities, including raising money for AIDS research, working on behalf of Habitat for Humanity and serving as an ambassador for 1Goal, which aims to educate children in Africa.
Robert Rodriguez
A truly maverick filmmaker, Rodriguez is the prolific director of such hits as 'Desperado' -- which first brought Salma Hayek to America's attention -- as well as 'From Dusk 'Til Dawn,' 'Spy Kids' and 'Sin City.' He has frequently collaborated with Quentin Tarantino and their unique style of storytelling has won millions of fans all over the world.
Eva Longoria
Longoria soared to stardom on 'Desperate Housewives,' which is in the midst of its final season. This Texas native has also embraced her heritage, producing and hosting the ALMA Awards, which honors Latinos for their work in entertainment. You may also remember Longoria for her marriage to NBA star Tony Parker, which ended in divorce in 2011.
Selena Gomez
One of the current wave of teen stars, Gomez is a dual threat: she can sing and she can act. Gomez, who first burst on the scene in the Disney Channel series 'Wizards of Waverly Place,' is also the envy of many a teenage girl, courtesy of her relationship with pop icon Justin Bieber. She also likes to give back to the community -- in 2009, at the age of 17, she became the youngest UNICEF ambassador ever.
Demi Lovato
Like Gomez, Lovato is another teen queen who sings, acts and got her start on Disney, with her lucky break coming on the series 'Sonny with a Chance' and in the 'Camp Rock' films. Despite the fact she has yet to finish her teenage years, Lovato has already overcome a lot of adversity. In late 2010, she cut a tour short to receive treatment for bulimia and intentionally hurting herself. She also revealed she was diagnosed as being bipolar and needed help after essentially having a "nervous breakdown."
Hilda Solis
Solis is the current US Secretary of Labor. She was previously a member of the US House of Representatives and the California State Senate. She was the first female recipient of the John F. Kennedy Profile in Courage Award, and the first hispanic woman to serve in the US Presidential Cabinet. She said of Wisconsin's 2011 protests "[they] aren't just asking workers to tighten their belts, they're demanding they give up their uniquely American rights as workers."
George Lopez
Lopez is a comedian, actor, and talk show host. His comedy routines dissect race-relations in America. He is currently the host of late-night talk show "Lopez Tonight." In late 2010 Lopez announced that he'd be interested in a running for mayor of Los Angeles. He has been awarded for his fund-raising efforts for the victims of Central American earthquakes.
- Additional reporting by Josh Heller
More From TSM Interactive