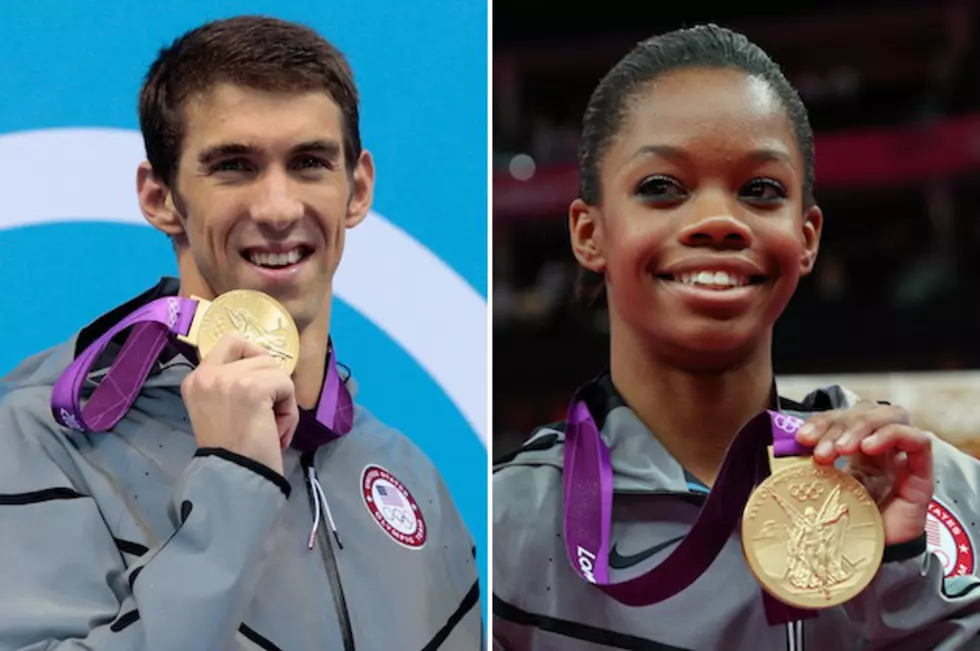 2012 Summer Olympics Recap: Day 6 — Michael Phelps beats Ryan Lochte in 200 IM; Gabby Douglas Wins All-Around Gold
The United States won six gold medals on Thursday to jump ahead of China in the overall medal count. Here's Thursday's Olympic Games' recap:
US swimmer Michael Phelps edged teammate Ryan Lochte in the 200-meter individual medley to claim a record 16th Olympic gold medal and extend his own overall medal record to 20. It's the fourth medal Phelps has won in London, while Lochte's silver was his fifth of the games. A half-hour before Phelps' win, US teammate Tyler Clary won the 200-meter backstroke in an Olympic record 1:53.41 minutes with Lochte finishing third.
Rebecca Soni of the US became the first swimmer to defend an Olympic title at the London Games when she broke her own world record with a time of 2:19.59 minutes in the women's 200-meter breaststroke.
US gymnast Gabby Douglas won the women's all-around title on Thursday, becoming the first American woman to win gold in both the team gymnastics and all-around competitions. Douglas was nearly perfect in topping Russians Victoria Komova and Aliya Mustafina, who finished with silver and bronze medals respectively. American Aly Raisman finished tied for third place with Mustafina, but the judges awarded the bronze to the Russian because of her superior execution.
Other American medalists on Thursday were the gold medal-winning US women's eight with coxswain rowers and Kayla Harrison, who became the first US athlete ever to win a gold medal in judo when she defeated Gemma Gibbons of Britain in the 78 kg (171.9 lbs) weight division.
In other non-medal results, the US men's basketball team had a record-setting performance in a 156-73 rout of Nigeria. Carmelo Anthony scored a US team-record 37 points in just three quarters of play, while the US team set records for points (156), 3-pointers (26), field goals (59) and field-goal percentage (71).
American Serena Williams advanced to the Olympic semifinals in women's tennis where she'll face top-ranked Victoria Azarenka of Belarus on Friday. Maria Sharapova will face fellow Russian Maria Kirilenko in the other semifinal. Second-seeded Novak Djokovic of Serbia beat Jo-Wilfried Tsonga of France. Djokovic will face Andy Murray of Britain in one semifinal, while Roger Federer of Switzerland takes on Juan Martin del Potro of Argentina in the other.
Overall Medal Leader Board
United States — 37 medals
18 Gold, 9 Silver, 10 Bronze
China — 34 medals
18 Gold, 11 Silver, 5 Bronze
Japan — 19 medals
2 Gold, 6 Silver, 11 Bronze
Germany — 17 medals
4 Gold, 8 Silver, 5 Bronze
Russia — 17 medals
3 Gold, 6 Silver, 8 Bronze
More From TSM Interactive